go to content
You will receive your JOKER CARD from your landlord when you arrive in resort. Your JOKER CARD is valid for the duration of your stay. Besides exclusive partners which offers you can use free of charge, many bonus partners offer attractive reductions for JOKER CARD holders. During summer 2018 you can make use of your JOKER CARD for a longer period due to extended operating periods of
gondolas
in spring and autumn.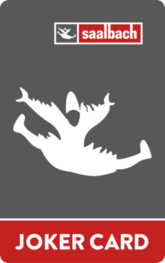 Unbeatable:
The Joker Card
The JOKER CARD cannot be purchased, as it is included in the rate in one of the JOKER CARD partner accommodation establishments in Saalbach Hinterglemm. You will get your JOKER CARD directly from your host upon arrival (Important note: Not all, but only those companies marked with the JOKER CARD logo are partners!)
The card is valid for the duration of your stay and offers free or discounted access to many attractions in Saalbach Hinterglemm and in the entire SalzburgerLand. The JOKER CARD period 2018 is May 10th to October 28th. The cards are issued only during a given JOKER CARD period and can be used within this period only. In addition to the partners whose services you can use free of charge, numerous bonus partners offer attractive discounts for JOKER CARD holders.