Clever savings! With the JOKER CARD, you will receive numerous services free of charge and attractive discounts. You will receive your personal JOKER CARD from the landlord of a partner accommodation establishment when you arrive in Saalbach Hinterglemm. Your JOKER CARD is valid for the duration of your stay. Alongside inclusive partners, which services you can use free of charge, numerous bonus partners offer attractive discounts to JOKER CARD holders!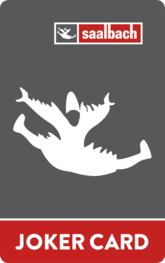 THE JOKER CARD
The JOKER CARD is included at all partner accommodation providers in the period from 26 May to 15 October 2023 and allows free use of up to 8 gondolas and access to the region's most popular attractions. Furthermore, JOKER CARD holders enjoy a price advantage of 20% on bike tickets of Austria's largest bike region with up to 9 gondolas in Saalbach Hinterglemm, in the Epic Bikepark Leogang und in Fieberbrunn as well as bonus partners throughout the Salzburger Land.
UP to 6 gondolas in summer operation
Six gondolas are operatiing in the summer: The Kohlmais gondola, the Schattberg X-press and the Schattberg Sprinter in Saalbach as well as the Westgipfel gondola, the 12er KOGEL gondola and the Reiterkogel gondola in Hinterglemm. Please find details on gondola operation here.
All JOKER CARD benefits & more attractions
Unlimited free use (passenger transportation) of up to 6 gondolas in Saalbach Hinterglemm
2 x daily free use (passenger transportation) of gondolas in Leogang (optionally 1 x each with Asitz- AND Steinberg gondola or 2 x with Asitz- OR Steinberg gondola)
2 x daily free bike transport with gondolas in Saalbach Hinterglemm or Leogang
Biking without limits in Austria's largest biking region: 20% discount on bike tickets for unlimited use incl. bike transport of up to 9 gondolas in Saalbach Hinterglemm, the Epic Bikepark Leogang and in Fieberbrunn (reduced bike tickets are only available at the ticket counters of the gondolas in Saalbach Hinterglemm - a valid JOKER CARD is demanded)
Attractions for kids: Kodok Mountain, Montelino's Adventure Path, Devil's Water, Motor Skills Path, Fairytale Forest, Kids Hiking Challenge, summit playgrounds, Wildlife Trail, Learn to Ride Park Saalbach and much more
Unlimited access to the Käpt'n Hook outdoor adventure pool Saalbach
Unlimited use of the end-of-the-valley-train in Hinterglemm
Unlimited use of the hiking bus in Saalbach Hinterglemm and the public transport system in the whole Pinzgau district
Up to 10 guided hikes per week by the Tourist Board
Unlimited use of the mini golf courses in Saalbach and Hinterglemm
Unlimited use of the tennis facilities in Saalbach and Hinterglemm (please reserve in advance)
Free admission to the Local Museum and Ski Museum
In addition, you will receive attractive discounts from a large number of bonus partners throughout the Salzburger Land
JOKER CARDs are personalised and non-transferable.
ALL partners AT A GLANCE
More included attractions
All bonus partners at a glance