go to content
Unique winter sports events make up part of the 100-year history of Saalbach We are proud of this splendid history and impressive development that has seen Saalbach evolve into one of the largest of most innovative tourist destinations in the Alps. After the successful Ski World Championships in 1991, the most important international Alpine ski competition are after 34 years, due to return to Saalbach in 2025.
That the slogan "WE ARE READY!" is not just an empty phrase was proved in February 2020, when with organisation window of only two weeks, the men's Downhill and Super-G Ski World Cup races were taken over at short notice and took place on the World Cup course on the Zwölferkogel.
Saalbach 2025 application trailer
SAALBACH IS MORE THAN READY FOR THE ALPINE SKI WM 2025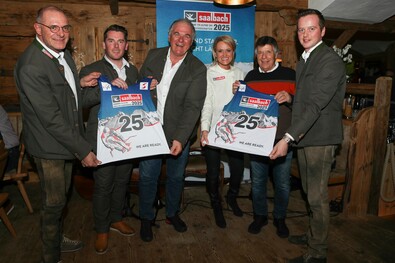 Taking over, at short notice the races of Sölden and Val d'Isere in December 2018 and the cancelled races in China in February 2020, Saalbach Hinterglemm has once again put itself on the international platform and proved that it is ready to host major international events. Together with the ÖSV, the FIS Alpine Ski World Championships will return to Saalbach. In the last round of bidding for the 2023 World Championships, the contract was awarded to Courchevel-Méribel, France. However, the people of Saalbach are not giving up: "We enter the second round with optimism and vigour", states Mayor Alois Hasenauer.

The existing concept will not be change. "All we are doing is tweaking the final touches", says Mayor Alois Hasenauer. "We stand by our concept, 'One mountain – all competitions'. If we were to be awarded the contract, you can expect another showcase World Cup in Austria in 2025".
The mountain on which the World Championships would be held in 2025, should the contract be awarded in October 2020, is "ready". Peter Mitterer, Managing Director of the Hinterglemm Lift Company: "Thanks to our reliable partner Doppelmayr, we already have the most modern lift system here and would be prepared for the World Championships. We don't need to construct anything extra – we already have it all!
The decision on the venue for the FIS Alpine World Ski Championships 2025 was originally planned during the 52nd FIS Congress in Thailand in May 2020. Due to the Covid19 (coronavirus) crisis and its limitations, the date for the congress has been postponed into October 2020. Up to date information about the congress can be found on the official FIS official FIS Website
Decision for the venue for the FIS Alpine Ski WC 2025
The decision for the venue of the FIS Alpine Ski World Championships 2025 will be made on October 3rd 2020 at 17:30 h.