A special challenge is waiting for fit, sure-footed and experienced mountain hikers: SEVEN SUMMITS of Saalbach Hinterglemm. This almost 24-kilometre mountain tour through the highest summits of the Glemmtal Valley, with an alpine character and as many as 1,450 meters of altitude, is for hard-nosed individualists and physically fit alpinists. Together with the
Pinzgau Walk
and the
Home of Lässig Walk
, the Seven Summits form the
Saalbach Hiking Challenge
.
Seven Summits in 70 seconds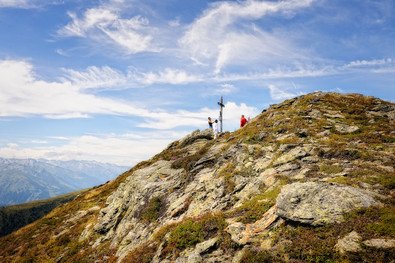 Extreme experience on the mountain
The tour will certainly take you to your limits: Two complete meals, bananas or the like and approx. four litres of water should be included in the supplies. Running shoes are absolutely unsuitable! With the Schattberg X-press (be sure to check the operating hours: from Monday to Friday, there is an early-morning journey between 7:30 and 7:40, after which the railway is closed until 9:00) the Seven Summits Tour begins.

Important information concerning the early-morning journey
The participation therein requires a valid mountain railways ticket (or the JOKER CARD). The cash desk is closed at this time, so the ticket should be purchased on the previous day!
The tour
The signposted route leads through Stemmerkogel and Hochkogel to the most technically demanding ascent up Hochsaalbachkogel. We continue through Bärensteigkogel, Manlitz- and Mittagskogel to the final peak and the highest mountain of the Glemmtal – Geißstein which is 2,363 m high. Reserves of energy should be saved for the difficult descent through the Birgel to the head of the valley. There are no serviced huts along this route. This requires good preparation: perfect equipment, sufficient food and water in the backpack, tour planning with regard to weather and alternative descent options are all necessary to tackle the tour. Tour overview can be found in our interactive hiking map .